This time last year I was heavily pregnant. Heavy was totally the right word to describe it. Enough people had asked me if I was having twins that even I was beginning to wonder.
Anyway, I knew my life was about to change in a major way. But what I didn't know was just how much I was going to love being a mum.
I've been trying to think of a way to describe just how lucky I feel that a certain baby boy came into my world this time last year. But for once words are escaping me.
Let's just say that I couldn't be happier. Every day I feel just so thankful. Even those days there hasn't been enough sleep.
So to celebrate Fergal, my Tiny 'B', turning the grand old age of one, I have two treats for you today…
Treat Number 1. The Cake!
For about 3 years I've had a tradition of creating a new cake recipe to celebrate my own birthday. And when Fergal was born last year we had a steamed caramel cake with peanut butter ganache to celebrate.
This year's creation was inspired by a recent trip to the Blue Mountains. We were celebrating the 40th of a friend of mine and I made a sticky date pudding at his request. It's an old favourite from way back and it struck me that dates would be an excellent sweetener for a cake instead of processed sugar.
And I was right!
I was going to call it a 'date cake' but that didn't quite have the same ring to it. So let's stick with Fergal's cake ;)
Treat Number 2. The Sale!
The other part of my birthday tradition is to have a sale on one of my ebooks. So I thought I'd have a very special 'One-Day-Only One Year Old Sale' to celebrate Fergal's first birthday…
For the next 24 hours only, you can pickup a copy of '30-Dinners in 30-Days' for 30% OFF.
This is the first time I've discounted my latest ebook since it was launched almost 18 months ago.
To find out if '30-Dinners' is right for you before the 'One Year Old' Birthday Sale ends go to:
www.thestonesoupshop.com/30dinners/
UPDATE: The one day only sale is now over.
PLUS!
As an extra special bonus, to celebrate Fergal being born on the shortest day of the year, I'm going to throw in a copy of the ebook version of my online cooking program called 'Super Slow Cooking' ($37 value).
This special ebook isn't available to buy on its own. The only way you can get it is to buy '30-Dinners' before the sale ends.
______________________
Fergal's First Birthday Cake
aka Supermoist Caramel Cake
This cake was inspired by the classic dessert sticky date pudding. Here we're using the dates as our only source of sugar so I guess we could call it 'processed sugar-free'.
Enough for 6-8 adults
250g (9oz) pitted dates
200g (7oz) boiling water
250g (9oz) unsalted butter, at room temp, chopped
2 eggs
250g (9oz) almond meal
2 teaspoons baking powder
2 teaspoons vanilla extract
1. Preheat your oven to 160C (325F) fan assisted.
2. Place dates in a heat proof bowl and cover with boiling water. Stand for a few minutes while you line a loaf pan with baking paper.
3. Transfer date mixture to your food processor and whizz until you have a smooth puree. Add butter and whizz.
4. Add eggs, almond meal, baking powder and vanilla and whizz again until smooth.
5. Transfer mixture to the prepared tin. Bake for 1 hour to 1 hour 10 minutes or until cake is golden, feels springy when you touch it and a skewer inserted comes out clean.
6. Cool in the tin.
VARIATIONS
nut-free – replace almond meal with regular all purpose (plain) flour and expect the cooking time to reduce to 45 minutes or so. Also expect the texture to be less moist.
dairy-free – replace butter with coconut oil or a neutral flavoured oil.
egg-free – replace eggs with 1 large mashed banana. I haven't tried it but expect you shouldn't have any problems.
vegan – combine the egg-free and dairy-free variations.
round cake – should fit into a 20cm (8in) round cake pan.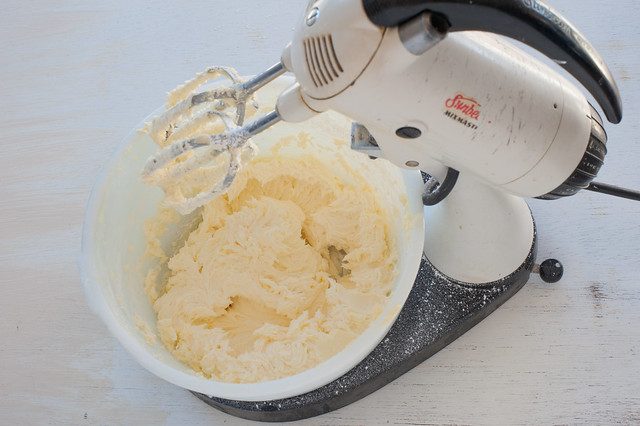 Birthday Cake Icing
We have a bit of a tradition in my family of having my mum's super delicous, sugar-packed frosting on our birthday cakes. I think there's a picture of each of my siblings with 'birthday cake' frosting all over our faces on our respective first birthdays.
I was tempted to go with chocolate frosting for Fergal but in the end this vanilla version won because I think it's a better accompaniment to the caramel cake.
Enough to cover the top and sides of a medium loaf cake
250g (9oz) unsalted butter, at room temperature
1 teaspoon vanilla extract, optional
400g (14oz) icing (powdered) sugar
1. Beat butter and vanilla, if using, in an electric mixer or food processor until light and fluffy.
2. Gradually add in the sugar until well combined.
VARIATIONS
less sugary – replace some of the sugar with corn flour (corn starch). I tried replacing half the sugar with corn flour and it ended up tasting very 'floury' so I'd recommend keeping the flour to 1/4 or less.
chocolate frosting – add 1-2 tablespoons cocoa powder with the sugar.
ps. Not sure if '30-Dinners' will help you?
Here's what Sage had to say about it…
"I've been doing the 30-day eworkbook with my 3 homeschooled girls and we are loving it. So delicious and so easy!! This workbook is helping us see that simple and fast still tastes great!"
Sage, 30 Dinners Reader
pss. The 'One-Day-Only' Birthday Sale is strictly limited to 24 hours from when this blog post was published.
Once it's gone… It's gone.
UPDATE: The one day only sale is now over.
Here's the link again:
www.thestonesoupshop.com/30dinners/
Share